I am fully committed to Project Dark Elves Army now. One of the things I like about this hobby is to see a nice big army on a gaming table. Since the army is not painted yet I just have to make do I guess. I decided to put the army together (sort of) in order to get a feel at how large it could be and what parts of it I will be focussing on first.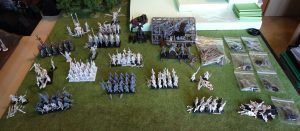 As far as I can tell these are all the Dark Elves models I have laying around here. The army will eventually consist of the following:
Malakith on dragon (Middlehammer model)
Morathi on Dark Pegasus
Cauldron of Blood (Middlehammer model)
unit of 12 With Elves
General on Cold One
6 Dark Riders
Dark Sorceress/Prietsess
1 Hydra
unit of 20 Spearmen
unit of 20 Crossbowmen
unit 15 Corsairs
2 Reaper Bolt Throwers
unit of 12 Black Guard
unit of 15 Executioners
unit of 10 Shades
Hero on Cold One
2 units of 5 Cold One Riders
unit of 10 harpies (including Raging Heroes hero model)
unit of 6 Raging Heroes Draakh Riders
Raging Heroes Draakh Rider hero
6 Raging Heroes Dark Elves Hero/Sorceress/Priestess models
All in all a nice army I think. (And I do know for certain I have a Dark Elves Dogs of War unit here somewhere… )
In the meantime I have based and base coated a unit of 20 Spearmen and a Sorceress.
And I am working on cleaning and glueing the shields for the Spearman.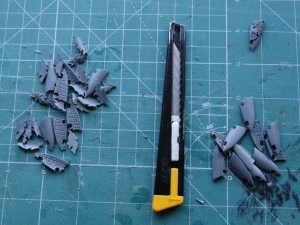 I think I will try to base and base coat several units and then start painting them by unit. Once a unit is finished I will treat myself to painting a single character or something. I hope this will ensure that I can keep my mind on this project long enough to actually finish it.