Hello and welcome to the second installment in the series 'Made in Holland', where I take a closer look at manufacturers of miniatures and/or games from Holland. Our small country has some people who are actively trying to add something to the hobby we all love.
The previous entry was focussed on Code Orange Games and their post-apocalypse skirmish game Collision.
This time I want to show you some of the things May'40 Miniatures has to offer.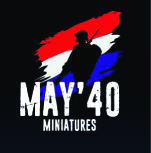 May'40 Miniatures, as the name might give away, is focussed on WWII models in 28mm. More specifically Dutch troops from that period when the Germans invaded our country. The person responsible for the realization of these miniatures is Sander van der Ster. His interest in WWII history ensures that the models are as historically accurate as he can get them in this scale. And although he does not make the sculpts himself he is the one who provides all the necessary pictures and descriptions of the uniforms, weapons and gear. The British sculptor had already been working on the Dutch range of models for SHQ in 20mm, but a whole lot more information has become available in the 20 years or so when he made those. He gets a lot of freedom, but certain key points have to be met. The models may not be as heroic and bulky as seen from some other manufacturers and Sander wanted to see certain poses realized in several models.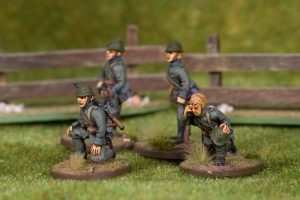 May'40 has just been started in terms of producing and selling the models, Sander has been working to get this far for several years now. His dedication to this project is immense and it shows in the way the models have come to be.
If your interest has been piqued you can visit their website for more information: http://www.may40miniatures.com