Welcome to the first post in a series where I would like to show you in what ways the Dutch are contributing to the miniature wargames hobby. We are but a small country, we know, but that could not stop some of us to try and make this hobby we all love a little bit more diverse and fun. There are a lot of (online) shops based in the Netherlands who import and sell certain ranges of games and miniature lines. They are all very important because they provide us with the means to acquire the products we need to play the games. There are the clubs throughout the country were we all meet. These are also a very important aspect of the community for obvious reasons. And then there are individuals who take it one step further and actually produce games or miniatures. I would like to focus on some of them. Those of you from abroad may not even have heard of these industrious Dutchies and might be interested in what they have to offer. I certainly hope this series will give them some more attention because they all work very hard to bring us new games and models to enjoy.
First up is Code Orange Games.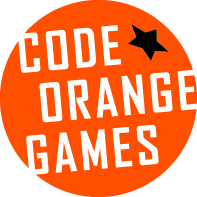 You can find them on Facebook: https://www.facebook.com/CodeOrangeGames/
Code Orange Games is run by two former Games Workshop employees, Matthijs and Arjan. Together they conceived all sorts of house rules and mini games and they decided to start a company. Their first game is called Collision, a post-apocalyptic skirmish game using 28mm models.

In the world of Collision there has been a series of natural disasters that spelled doom for the world as we know it. Society crumbled and all natural resources have been depleted. Survivors still depend on technology for which they need an energy source. This energy can be found in mysterious crystals called Collision shards. These shards are the reason why rival gangs are bashing each other's heads in.
The game is played with two gangs of five to ten models on a 36″ x 36″ table. The game uses no dice, but special cards. Both players have the same deck, but the cards are shuffled which makes for the interesting part of the game. Who will have higher cards in what order? The ruleset is quick and easy to learn and the way the cards can be used to bluff make this a very enjoyable game. The demo has extensively been played on several Dutch conventions and on some in Germany and England and was overall well received.
This also reflected on the successful funding of their Kickstarter to launch the game. With this Kickstarter the first two gangs were presented and a third was added through a stretch goal. Other stretch goals unlocked special tokens, cards etc. The pdf version of the rules (designed by yours truly) is free for al who contributed to the Kickstarter and a black and white version is free for all to download from their website (http://www.collisionthegame.com/downloads/). When more feedback on the rules has been gathered there are plans for a printed version of the rulebook with added background and such.
The miniatures for the first two gangs were already well underway before the launch. All of them went through stages of concept art and 3D rendering before the master model was made. The first two gangs (The Reclaimers and The Unwanted) have received good reviews on various wargames websites. The details are crisp and the casting is of top quality.
More information on the game can be found here: http://www.collisionthegame.com/about-us/
I hope you have enjoyed reading this small bit of information about Code Orange Games and their game Collision and perhaps even found something new to play or inspiration in any other way. If you have any questions concerning the game, the models and their availability I suggest you give them a heads up through their Facebook page. They will be happy to reply to all your questions.
Next time I will highlight May'40 Miniatures.
If you have any suggestions for this series please let me know in the comment section.