Hello one and all. It has been a while (again) since I wrote, this time some personal issues needed my full attention, next to the painting deadline I have for the massive pirate battle this coming Sunday.
I have been able to attend the annual Crisis event in Antwerp though and am now finally in the position (and mood) to write a short report on that.
Crisis is one of the biggest wargaming events on the European mainland. It is held in Antwerp by the Tin Soldiers of Antwerp who put in a lot of time and effort each year to attract a large group of traders from all over the globe and lots of demo tables hosted by gaming clubs. It is held in two halls in a venue at the docks.
I shared a ride with a good friend of mine. We decided not to leave as crazy early as previous years, but still be there around the time the event would open, just around 10.00 o' clock. All went well, up until we were almost there. Then the annual search for the best route to the venue started. As always, there was some construction going on in Antwerp, causing some roads to be blocked. I honestly start to wonder if they will ever finish working on the infrastructure there. But since it has almost become somewhat of a Crisis-tradition we took it all in good stride and finally found a way to the parking site.
There was still a substantial que at the door when we finally arrived. Which made us wonder if we would receive the event model in our goodie bags (this model is free for the first 1700 attendees).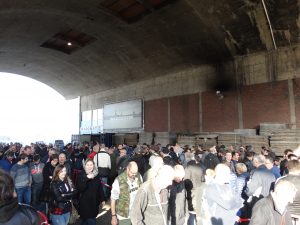 We spotted several friends during the long cue towards the entrance and once inside were pleased to find the event model in our goodie bag. This year the model was Tijl Uijlenspiegel, a figure from German, Dutch or Belgian folklore, depending which story you read. The model is sculpted by Paul Hicks. This year was the first time there were counterpart models which could be bought at the event.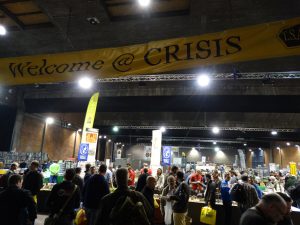 Once inside we were met by a large table filled with models and buildings, depicting a pitched siege battle. I had read and heard about this massive undertaking. The table was packed with Tabletop World buildings, a big ship in the harbour and loads of miniatures. All in all a very impressive table due to it's sheer size.
Next stop for us was the bring&buy section. This was a larger section than last year and I found a few nice things there including some sealed treasure cards for the classic Warhammer Quest game.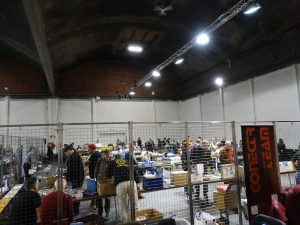 I had brought a list of things I was looking for (very nerdy, I know) and some items I had pre-ordered for pick up. Every year I order some items from KR Multicase because one can never have enough quality transportation cases. I particularly like their pre-formed foam trays and standard 28 mm figure trays and cases. I can now store my extensive range of classic Necromunda models in these cases and transport all my X-Wing models and such in pre-formed foam and cases.
Another booth I am always interested in is from a British seller of Warhammer items. First of all he has some fair prices for regular models and kits and secondly he has cases filled with second hand models. Some of these cases usually have some treasures in them for decent prices. Classic Necromunda models, Tallarn and even some classic Inquisitor models for instance. Since I have lately completed most of my classic collections there was nothing there for me this time (I even passed on the Tallarn squad, deciding that I really have to much of these models already), but my friend found some nice Necromunda Escher classics to complete his collection. Since there were so many people trying to squeeze themselves in this booth I decided to escape the chaos and let the normal kits for what they were. I might always return later on the day to see if there was anything left of interest. It was time for some casual strolling and search for some items on my wanted list.
There were several other booths I wanted to visit. Foundry and Ainsty Casting being some of them. During the day I found several nice blisters of farm animals I need for an upcoming project. And for the same project several models of witches and witch hunters. Some extra trees to go with the medieval/fantasy scenery I already have and more pirate models from Black Scorpion were added to the pile. And I found some nice (sexy) models from Brother Vinnie. If you do not know his work check it out, you can find him on Facebook.
We also encountered a Blood Angel Space Marine (apparently this one was from France, we had no idea the Angels recruited there…) before we went to the bar to get some Belgian beer.
There were some nice demo/participation games as well throughout both halls. I took some photo's to give you all some impression, but there were so many more tables than these. Some friends held two tables, hosting games of the Barsoom warships and a scenario called the Peatship of Breda.
All in all it was a nice day. We met several friends and friendly staff from both the event and the traders. There was the usual selection of traders you see every year (and even mostly on the same spot in the hall) and some who we have not seen there before. If you see this event as an annual gathering of familiar traders where you would usually buy models from the webstores there is no problem with this setup. This way you have the opportunity to see the models for real and talk to the traders directly. The biggest problem is to keep to the budget you set for yourself.
During the ride home we discussed some of the purchases we made during the day and what exiting new projects we can start with them. You know, the projects that always exist in your head and you will probably start someday, when all the other projects have been done 🙂
See you next year Antwerp!